Electro-Coating (E-Coat)
What is E Coat?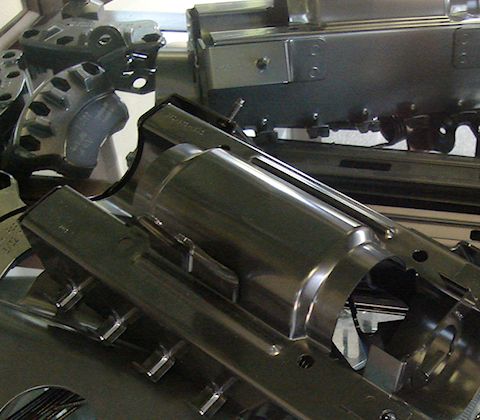 E-coat is an electrically-applied paint coating. Electrocoating is an immersion painting process that attaches charged paint particles to an oppositely charged metallic surface. As the paint is deposited, it forms a finish which begins to insulate the metal from the surrounding charged solution as well as self-leveling the e-coat. E-coating was developed originally for the automotive industry to provide a superior metal finishing process.
Corrosion resistance is superior to other metal finishing paint application methods because immersion E-Coat provides a complete, uniform coating to whatever it touches - even in corners, on edges, and in hard to reach, partially enclosed spaces. The e-coat process is economical and provides superior coverage, adhesion, and corrosion resistance. E-coat is also known as electrocoating, electronic coating, electronic painting, and electrophoretic coating. The e-coat process coats aluminum, zinc, brass, steel, or any other material that conducts electricity.
Superior Quality from Georgia Plating
A proper cleaning procedure is very important in the e-coat process. If the coated material is not prepared appropriately, the e-coating will not perform to the maximum capability. The typical preparation procedure utilizes a spray cleaner. To ensure that our customers get the highest quality possible, Georgia Plating uses a spray and immersion cleaning process. Georgia Plating believes in delivering the excellence that our customers expect from their e-coated materials.
Georgia Plating's high capacity, automated production lines ensure the highest level of consistent quality. Our e-coating specialists have over 100 years of combined experience. In emergency situations, Georgia Plating can sometimes provide overnight turnaround to meet your emergency metal finishing needs.
Lower Costs and Increased Customer Satisfaction
If your requirements include zinc coat and e-coat on the same parts, consider Georgia Plating. Why ship parts to two different coating companies when Georgia Plating can reduce delivery time as well as save double freight costs? Our environmentally friendly, non-lead based e-coating process meets all automotive requirements as well as being a good corporate neighbor. All excess paint from the e-coat process is returned to the paint tank for recycling. No materials are released into the atmosphere.